Filipinos in Qatar, a 250,000-strong community, are in for a treat as Mekeni Food Corporation, a multi-awarded food manufacturer based in the Philippines, brings its products to the country.
In the recently concluded Philippine Independence Day celebration at Sheraton Hotel, Westbay Doha last June 23, 2023, Mekeni President Prudencio S. Garcia officially announced that Mekeni's flagship hotdog brand–Picnic, Chicken Tocino, and Chicken Longanisa will be available in Asian stores across the country starting July this year.
"One of the realizations we had during the height of the pandemic is that we have the capacity to bring the taste of home closer to overseas Filipinos. Exporting has long been in our plans, but the requests and support of Filipinos reaching out to us played a big part in finally fulfilling this plan," Garcia explained. "Now, they can feel closer to home."
These new products will use the same formulation as in the Philippines, but the big difference is that these will be produced locally and are thus certified Halal.
However, Mekeni assured that the same level of quality and taste can be expected. "We forged partnerships with local food manufacturers that share the same commitment to food safety and quality to ensure that these products are made with world-class standards and expertise that we espouse. We are thrilled for Filipinos and Qatar locals to try our products," Garcia said.
Before its export expansion, Mekeni had established itself as a food manufacturer using gold-standard end-to-end processes. It is certified-compliant with the Food Safety System Certification 22000 version 5.1, a standard aligned with Global Food Safety Initiative, and covers adherence to ISO 22000:2018 Food Safety Management System.
Moreover, it is the first and only heat-treated meat processing plant in the Philippines that passed Japan's Ministry of Agriculture, Forestry, and Fisheries stringent accreditation.
Mekeni soft-launched its export business as early as 2011 when it closed initial shipping to Dubai. Since then, the goal to expand their reach has been opportunistic. Currently, Mekeni products are available in the US, the UAE, Canada, Australia, Bahrain, Brunei, The Netherlands, and New Zealand.
"We are very pleased and grateful to forge reliable partnerships that help increase Mekeni's footprint across the globe, and we look forward to bringing more products here and beyond," concluded Garcia.
Mekeni Food Corporation (Mekeni), a leader in food safety, recently passed the surveillance audit by a global testing and certification firm, proving its commitment to international food quality and safety standards.
The Porac-based food processing company has passed the unannounced surveillance audit in relation to its current certification to FSSC 22000 v5.1. The audit was conducted by SGS, the world's leading testing, inspection, and certification company.
"We continue to commit quality products to our consumers. Mekeni is but a steward of this business whose main objective is to create a livelihood for our workers. We are grateful for their support of our commitment," said Mekeni President Prudencio Garcia.
FSSC 22000 v5.1 covers standards for the so-called Good Hygienic Practice and Hazard Analysis Critical Control Point. Both GHP and HCCP are internationally-recognized frameworks for food consumption safety.
It is also aligned with the updates in Global Food Safety Initiative and covers adherence to ISO 22000:2018 Food Safety Management System, its pre-requisite programs, and additional requirements such as the management of services and purchased materials; improvements in product labeling; and storage and warehousing.
Mekeni, through the years, has passed various food safety certifications that include ISO 22000:2005 (Food Safety Management System), the World Quality Commitment Award (France, 2016), The International Arch of Europe (Germany, 2013), Century International Quality ERA Award (Switzerland, 2012), and Grand Slam Award for Best Meat Processing Plant AAA Category (NMIS, 2007).
Its ISO 22000 certification in 2006 is the very first issued in Asia and second in the world. It is also a Grand Slam Winner as the Best Meat Processing Plant in the Philippines with "AAA" category from 2004 to 2006.
Mekeni is also the first and only heat processing facility accredited by Japan's Ministry of Agriculture, Forestry, and Fisheries to export products to the said country.
Starting as a backyard business by husband and wife Felix and Meding Garcia in 1986, it now has operations and distribution in the United States, Canada, and other parts of North America, the Middle East, and parts of Europe.
The unannounced surveillance it passed manifests Mekeni's adherence to food safety and quality control and solidifies that its commitment to food safety is an integral part of its processes. The certification will also enable the company to ready itself to pass the higher level of Version 6 when it rolls out next year.
Mekeni Food Corporation, one of the country's biggest food manufacturing companies, is further solidifying its commitment to promoting local heritage not just in the country but in the US.
The home-grown food brand recently partnered with Hiraya Foundation, a New York-based non-profit organization established by Filipino and Filipino-American professionals, for the first-ever Gawad Alab ng Lahi.
Gawad Alab ng Lahi is a program by Hiraya Foundation that aims to recognize individuals, enterprises, and communities that contribute to uplifting the lives of Filipinos and promoting progress in the Philippines.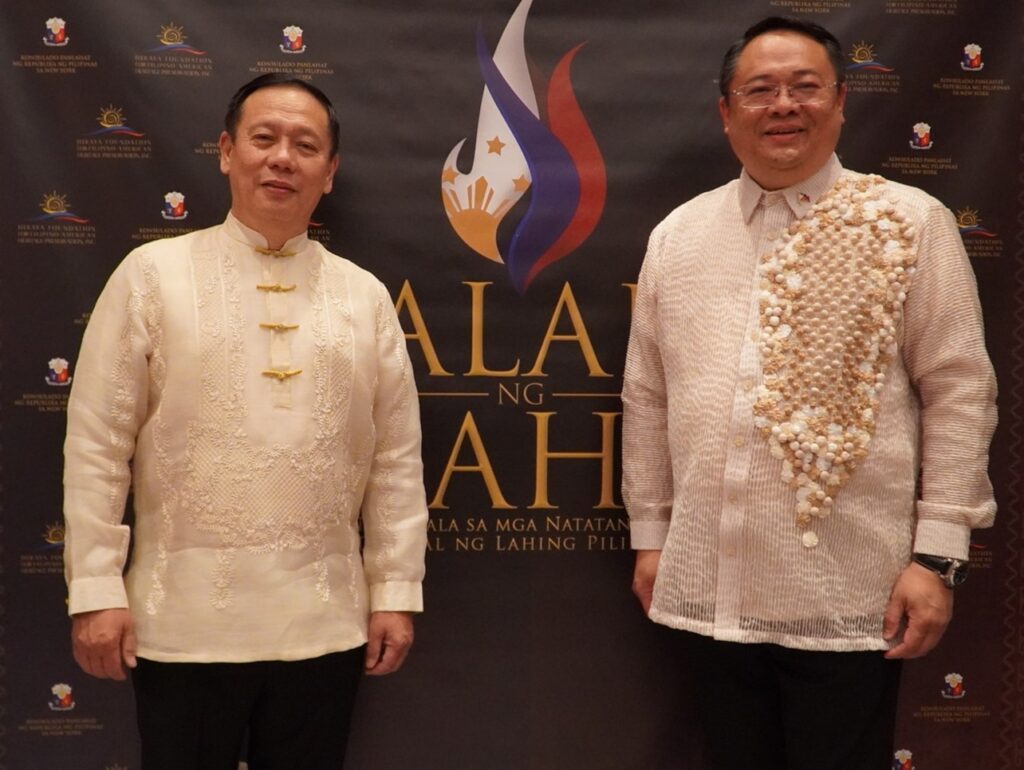 Hiraya Foundation Chairman of the Board Romulo Aromin, Jr., MD added that the program honors those who made a meaningful impact on the lives of Filipinos abroad and in the Philippines.
Mekeni President Prudencio S. Garcia said, "We are fortunate to cross paths with Hiraya Foundation and a group of successful Filipinos who also advocate conservation of our heritage, especially during this time where everything seems to be at our fingertips. As a local brand penetrating the global arena, we recognize the importance of preserving one's identity, being proud of your roots, and effecting positive change in society."
Garcia, who is also a former overseas worker, continued that like Hiraya Foundation, uplifting lives is at the core of Mekeni.
Mekeni was born out of a simple dream of a father who wants to give his family a better life ahead. This, however, changed and grew deeper after its founder, Felix Garcia, witnessed the hardships in their baryo after the devastating Mt. Pinatubo eruption in 1991. Since then, it has become their advocacy to uplift lives within and beyond their community.
"We are grateful to Mekeni for supporting and joining us in our cause. With a program such as this, we hope we could inspire the next generation to uphold our heritage no matter where success takes them," said Aromin.
This partnership between Mekeni and Hiraya Foundation was made possible by the Philippine Consulate in New York, headed by Consul General Elmer Cato who lauds the foundation for its patriotic advocacy.
In the recently concluded awarding ceremony last July 11, 2022, at Whitby Hotel in New York, the following received the Gawad Alab ng Lahi award: Dr. Leo Felix Jurado for his unrelenting advocacy for Filipino nurses in the US; Concentrix Philippines for opening doors nationwide for Filipinos to provide for their families and thrive in unprecedented times; Philippine Nurses Association of America, Inc. for being at the forefront of advancing the interests and welfare of nurses in the US by providing professional and legal assistance; and Carnival Cruise Line for recognizing and rewarding Filipino talents through employment and ensuring their health and safety during the height of the pandemic.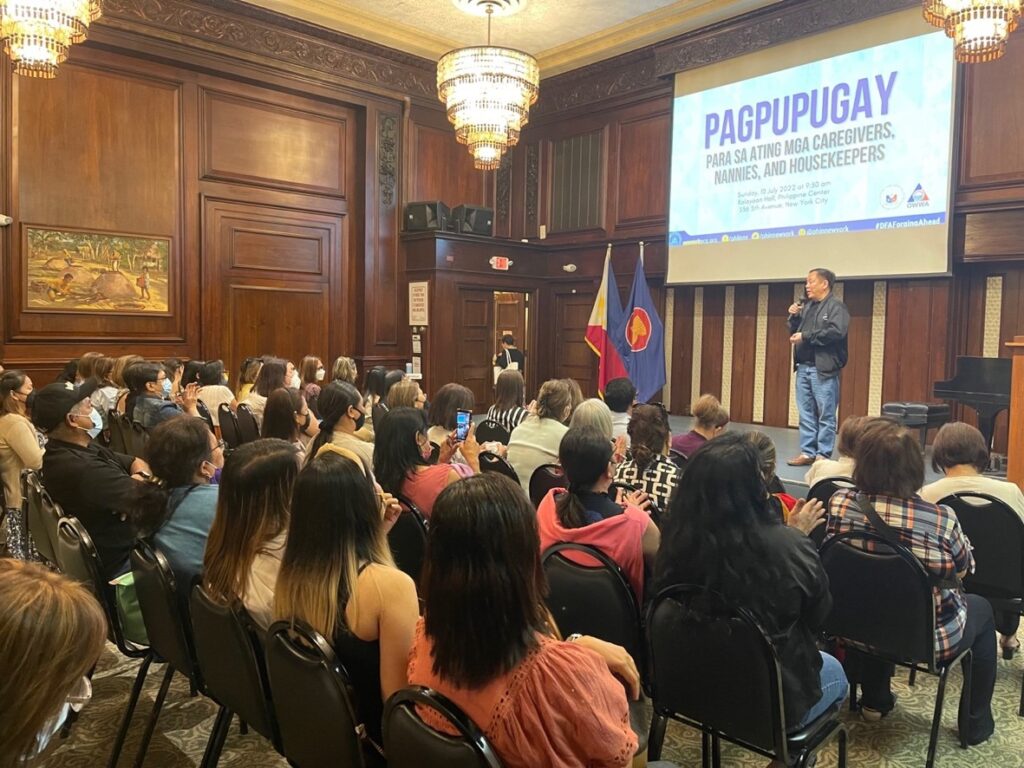 Apart from participating in Gawad Alab ng Lahi, Mekeni representatives also met with Filipino overseas workers in New York in a tribute event organized by ConGen Cato and Overseas Workers Welfare Administration.
Mekeni was given a chance to impart to the attendees their experiences and learnings in overcoming challenges.
"We hope that our story will inspire them that if they are resolute in their dreams, nothing is impossible. No challenge is too big to bring them down," concluded Garcia.